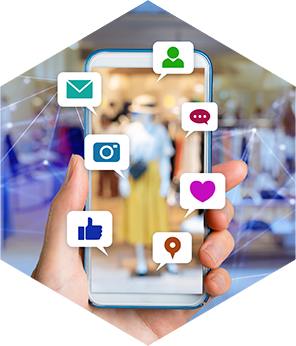 Social Media Advertising In Tampa Bay
At Social Buzz Marketing, we understand that social media can be confusing, which is why we like to really break it down for our clients. We know that paid advertising is different across every different platform, but our goal it to make that we get your product, service, or message in front of the right demographic at the right time. Schedule a consultation or contact us with any questions you may have about Social Media Advertising in Tampa, St. Petersburg, Clearwater or the surrounding areas.
Social Media Advertising Agency Tampa Bay
When it comes to social media, Social Buzz Marketing has the answers to all of your questions. Social media advertising is one of the most cost effective ways to get your message out to your potential customers. Before we start your social media advertising campaigns, we get to know you so that we can relay your brand and messaging in each ad. We will also learn more about your potential audience and your competition, which allows us to determine the types of ads and messages that will be successful for you. Finally, we create a highly targeted, specialized ad campaign based on your budget, goals, and the research we've done. This process allows us to create ad campaigns that will give you the best possible return on your investment.
Facebook Advertising Agency In Tampa Bay
If you are looking into social media advertising, you have most likely thought about advertising on Facebook. If you have tried to run Facebook ads yourself, you might not have seen great results. If you don't know how to run Facebook ads properly, you might be wasting your money! At Social Buzz, we know how to run Facebook ads effectively. From boosted posts to targeted ads with specific goals in mind, we can help you create campaigns that will help you achieve your goals, whatever they may be. Our Tampa Facebook advertising agency can use Facebook to drive in leads, increase online sales, bring people into your store, promote your brand or specific events, or simply get you more likes. We work with each of our customers to create the perfect Facebook ad campaigns for their specific needs. If you are tired of wasting money and not getting the results you want, let Social Buzz help, get a free Facebook advertising consultation in Tampa, St. Petersburg, Brandon, or anywhere in the country, by calling 813-614-3624 or simply contact us online.
Social Media Platforms We Advertise On:
Many of our clients are aware that you can run ads on Facebook, but there are other social media platforms that reach different demographics in different ways. Depending on your brand and target demographic, there may be opportunities to run effective advertising campaigns on these other platforms. Social Buzz provides social media advertising for the following platforms:
Facebook
Instagram
LinkedIn
Pinterest
YouTube
If you are interested in learning more about advertising on social media in Tampa or the rest of the country, give us a call or contact us online and set up a free consultation with our social media advertising experts today!
Contact Social Buzz For Social Media Advertising In Tampa, St. Petersburg, Clearwater, Brandon & Beyond
If you have tried to run ads on social media before, you may have not gotten the results you wanted. If you aren't an expert, advertising on Facebook, Instagram, and other social media platforms can waste money without bringing in results. However, if you know what you're doing, you can get a really good return on your investment. At Social Buzz, we provide paid social media advertising in Tampa & the rest of the country to a wide range of small to mid-sized businesses. Our aim is always to provide real results that bring you new leads, customers, or followers. We also provide a number of other social media marketing services including: Social Media Consulting & Social Media Training, Social Media Strategy, Social Media Management, and Branding Photography. If you have been struggling with running your social media ads and are looking for the best social media advertising agency in Tampa, Clearwater, St. Petersburg, Brandon, Valrico, Seminole, Sarasota, or the rest of our service area, give us a call at 813-614-3624 or contact us online for a free consultation.